TURN YOUR FRONT PORCH INTO A COMMUNITY STAGE
FACT: Folk, roots and bluegrass music is real people playing real instruments as a community. Think of it … the best music at folk and bluegrass festivals doesn't happen onstage, it's in the campgrounds and parking lots.  "SongFarmers Music Chapters" are for WFPA members to host in their communities. From Vermont to the Virgin Islands, SongFarmer chapters are springing up as we gather the global front porch community of artists and music lovers.
READ the SPECIAL EDITION Newsletter about our name: click here
READ the August 2017 Newsletter: click here
READ the July 2017 Newsletter: click here
SONGFARMERS LOCAL HARVEST FESTIVALS: click here
IMPORTANCE OF THE SONGFARMERS NAME: read here
_
HOW IT WORKS
It's fun. It's easy! This is an effective way to organize and run local music jams. No tickets, no money, no sound system needed. Just invite a few friends over to your front porch, back yard, living room, local community center to pick, sing and play. That's it. Small gatherings are good. CLICK HERE for our introduction sheet … please let us know and we will post your SongFarmers Chapter here so others can find you.
Here is SongFarmer PERRY BRAKE who runs the Tellico Plains TN chapter with a message for anyone considering starting their own:
_
HERE'S A LIST of current hometown SongFarmer Music Chapters
WOODSONGS FRONT PORCH ASSOCIATION  Facebook page; LIKE and keep in touch
SONGFARMERS of AMERICA MAIN PAGE (Communications "hub" for local chapters) Facebook Page
SONGFARMERS of Beacon, NY Facebook Page
SONGFARMERS Of Hinesburg Vermont Facebook Page
SONGFARMERS of Knox County TN Facebook page
SONGFARMERS of Lexington, KY Facebook Page
SONGFARMERS of the Hudson Valley NY Facebook page
SONGFARMERS of Madison County KY Facebook page
SONGFARMERS of Athens AL Facebook page
SONGFARMERS of Louisville KY Facebook page
SONGFARMERS of Shelby County, Indiana Facebook page
SONGFARMERS of Jacksoneville, NC Facebook page
SONGFARMERS of Brown County Indiana Facebook page
SONGFARMERS of South-Central Indiana Facebook page
SONGFARMERS of Tellico Plains, TN Facebook Page
SONGFARMERS of Metamora, IN Facebook page
SONGFARMERS of Greensboro NC Facebook page
SONGFARMERS of Suwannee River Valley FL Facebook page
SONGFARMERSof Cincinnati OH Facebook page
SONGFARMERS of Crab Orchard KY Facebook page
SONGFARMERS of Clarksdale, MS Facebook page
SONGFARMERS of Cabot, Arkansas Facebook page
SONGFARMERS of Coral Bay, St John Virgin Islands Facebook Page

SONGFARMERS of Viroqua, Wisconcin Facebook Page
SONGFARMERS of Gainesville, GA Facebook Page
SONGFARMERS of Mount Vernon, OH Facebook Page
SONGFARMERS Of Wauconda/Island Lake, IL Facebook page

SONGFARMERS of Hamiliton, OH Facebook page
SONGFARMERS of Valdosta, GA Facebook page
_
Here is a great example of how a local SongFarmers chapter gathers their regional community together for a music jam. They use a local library as a fee venue and created this fun, easy-to-understand video clip to pass around. We love it!

_
Starting a SongFarmer Music Club? DOWNLOAD our instruction sheet PDF first, then send an email with your contact info and Facebook page to WFPA@WoodSongs.com or call us 859-255-5700 and we will post you on our page!
The smaller you keep it the easier it will be. Simply invite friends over for a music jam, song circle, "open mic" or sing along. Everyone plays for free and for the sense of community. The more local and "living room" you keep it the better. It will also last longer.
HOW TO START:
FIRST: Become a WFPA member and decide to start a SongFarmers Music Club
SECOND: Download our 3-page PDF with all the details you need to start. CLICK HERE
THIRD: TELL US WHERE YOU ARE STARTING by mailing in the form or sending an email to WFPA@WoodSongs.com We will send you the SongFarmers logo and permission to use it on your flyers, invitations and Facebook page for free.
NAME IT: Create a public Facebook page showing your hometown, example "SongFarmers of Berea, KY" … we don't advise using a name that implies a large regional area because it could discourage others in the affected towns from starting their own. Rememeber, keep it small, keep it easy, keep it fun 🙂
_ _
WE WILL HELP YOU … what we ask is simple
a) at least one member of your group becomes a member of the WFPA
b) the events are non-ticketed and community driven
c) sign up for the SongFarmers-L list serve and be part of the global conversation, share ideas, learn pointers from others and more.
d) by all means come to the 2017 WoodSongs Gathering!
_
SongFarmers Clubs in the NEWS:
READ THE STORY OF THE SONGFARMERS CLUB IN FLORIDA: CLICK HERE
RECENT TV REPORT ON SONGFARMER CLUB IN TELLICO PLAINS TN: CLICK HERE
Questions? WFPA@woodsongs.com or call 859-255-5700
_
BECOME A WFPA MEMBER TODAY
_
_
_
A THAWT I THUNK from mj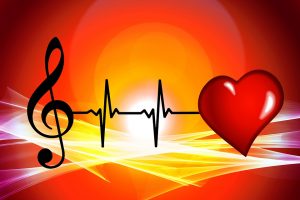 "Love is the greatest transaction of the Arts …"
It's not just a slogan, but an important way to view our music, our audiences and, most important, each other. Especially for our SongFarmers Chapter leaders, kindness and patience, mentoring and teaching goes a long way. At times, those attending might be slow to catch on or easily frustrated. Or the venue you are using is run by disorganized folks who aren't paying much attention to you.
The best way to handle this is with love. Be forgiving and kind, patient to a fault. You will be amazed how powerful "love" can be to harmonizing the feelings of a community group. It is the glue that holds volunteers together. Remember, the "payment" volunteers have for helping out is the way they "feel" when they are done. Make them feel valuable, over look mistakes and help them find joy in being part of the SongFarmers world. It also leaves a good impression on onlookers: you are not just representing yourself or your chapter, but the reputation of our entire SongFarmers community nationwide.
Leaving behind seeds of kindness also helps keeping your group organized and our efforts easy. Rik Palieri, our SongFarmer Chapter leader in Vermont, had a hard time renting a venue for his August SongFarmers Harvest Festival because the community group that used it last time was short tempered and hard to deal with. The State Park almost didn't want to rent it because of that. Rik overcame the objections with patience and calmness and now all is fine.
Lessons learned: You are now leaders of a whole regional community, love will gain you tremendous respect and admiration.
mj
SongFarmers.org