Musicians, Writers, Poets, Painters, Artists, Song Farmers, Fans, Families and Front Porch Pickers
_
The 2017 international "WoodSongs Gathering" Oct 13 and 14 at historic SHAKER VILLAGE 3501 Lexington Rd, Harrodsburg, KY 40330 just 40 minutes outside of Lexington. It's a member conference and music festival in one. All new or renewing members of the WFPA (only $25 a year) that sign up by Oct 1 will get 5 FREE Tickets to attend both days. Questions? Call 859-255-5700 and renew or sign up today.
Young and old, seasoned and new, experienced and hobby players … all are welcome! Every WFPA member gets FIVE FREE TICKETS for family or fellow band mates. Make sure you make room reservations at Shaker Village soon before they fill up.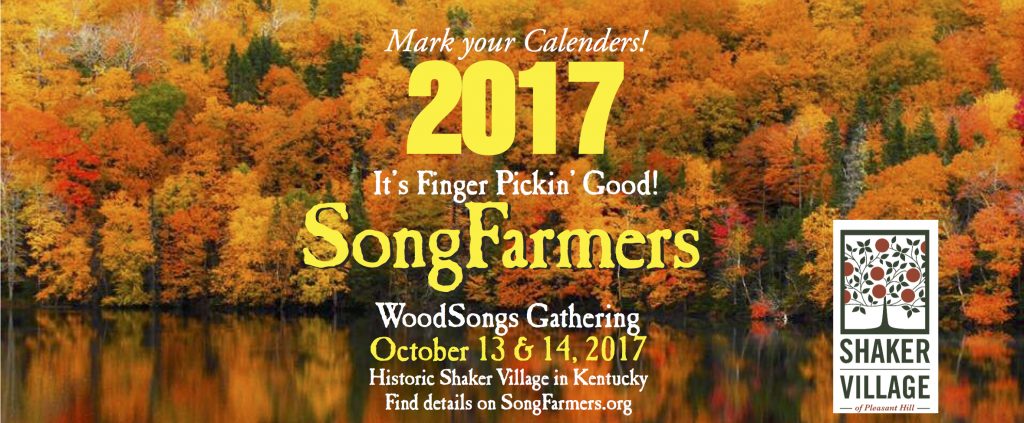 BECOME A MEMBER OF THE WFPA … support the WoodSongs CLASSROOM Projects, start a hometown SongFarmers Chapter … and get 5 FREE tickets to the Gathering!   click here
Register for your FREE TICKETS and a performance showcase by filling out this easy online form: click here

_
PRINTABLE INFORMATION: Click Here for the information letter with everything you need to know to attend The Gathering
_
MEDIA: PDF PRESS RELEASE coming soon, or call 859-255-5700
_
DOWNLOAD: click here to see the 20-page collectors edition SongFarmer's booklet given to WFPA members at The Gathering
_
DIRECTIONS: click here for directions and maps to Shaker Village 3501 Lexington Rd, Harrodsburg, KY 40330
_
PROGRAM SCHEDULE 2017: FRIDAY Oct 13 5-9PM, and SATURDAY Oct 14 9-9PM … event schedule coming soon!
_
MEAL TICKETS: Save a lot of time and money, buy your meal tickets in advance. Information coming soon!
HOTELS:
Shaker Village has a wonderful old time Inn and is, well, too awesome to miss out on. We suggest that you make a reservation early before all these rooms are gone.
1) make sure your WFPA membership is current
2) call SHAKER VILLAGE INN 3501 Lexington Rd, Harrodsburg, KY 40330 (800) 734-5611 and reserve a room ASAP!
BEAUMONT Inn
– 638 Beaumont Inn Drive, Harrodsburg, KY 40330 – 1-800-352-3992 or 859-734-3381  
http://beaumontinn.com/
BAYMONT Inn Suites
–
105 Commercial Dr, Harrodsburg, KY 40330
Phone (859) 734-2400

20 rooms blocked for "WoodSongs SongFarmers"

DAYS Inn
–
1680 Danville Rd, Harrodsburg, KY 40330
– Phone:
(859) 734-9431
20 rooms blocked at $67.99/Night per night for "WoodSongs SongFarmers"
CAMPING:
There are great camping parks nearby in Harrodsburg and Danville, KY just 15 minutes away.
_
_
 _

Spend a beautiful autumn weekend and enjoy our FRONT PORCH community of concerts, workshops, singing and friendship. CLICK THE MEMBER BUTTON for easy online registration for WFPA membership plus get your FREE TICKETS to The Gathering. Or call us, 859-255-5700
_
The GATHERING is our yearly festival and conference for WFPA members. Imagine an international gathering of musicians, artists, writers, poets, families and fans in a rustic autumn setting setting to share their music, stories, experiences and wisdom. Workshops, lectures, front porch stages, music lessons and major concert showcases will be part of the two day Gathering.
_

_How WFPA SongFarmers felt about last year's Gathering:
"Kudos and our deepest gratitude to each and all who were a part of the success of the 2016 Gathering. Our front porch here at SongFarmers of the Suwannee River Valley of Florida has just grown considerably larger and better." Linda Dyal Johns, Florida, sent  Sept 29 2016
"I learned so many things and can say I'm a better musician than when I came here. We are SongFarmers, sowing seeds of music and instilling the roots that our forefathers planted so long ago to the younger generation." – WFPA Member Daniel Vann
"We are anxiously looking forward to meeting again with all the Song Farmers next year at Shaker Village. I am still flying high! The WFPA is making a great change in our lives. Thank you for making all this come about." Dave & Carol Rowgo, Kalamazoo Folklife Society, Kalamazoo, MI
The 2017 WoodSongs GATHERING
Here is information you need for the huge 2017 WoodSongs Gathering – Music Festival and Member Conference this at the incredible SHAKER VILLAGE in Kentucky:
a)
FREE TICKETS:
all WFPA members get free tickets to BOTH days of the Gathering. Become a member by October 1 2017 and we will send you an information packet with your membership card. 
YOUR MEMBERSHIP CARD IS YOUR TICKET
. Just
register
for the Gathering, show the card at the welcome desk, pick up your program and that's it. Nice and simple.
b)
PERFORMING:
all WFPA members are welcomed to perform on one of our stages and yes, bring your instruments. Once you become a WFPA make sure you
register
so we know you are coming!
c) SCHEDULE: the 2017 Gathering begins 5PM Friday Oc 13 to 9PM; Saturday Oct 14 9am to 9PM.
 _
d) SEEDLING STAGE: we will have a special stage for kids run by kids. If you have children with you that sing, perform, recite poetry … anything … this stage is for them! Just sign them up when you arrive.
h) PARKING: there is plenty of free parking at Shaker Village.
i) HANDICAPPED ACCESSIBLE: Shaker Village and the event stages, cafe and museum are all handicapped accessible.